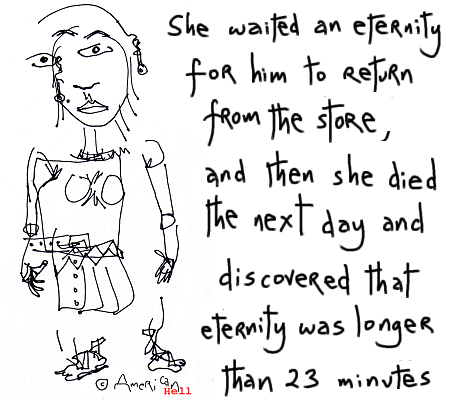 12 Comments
I think what you're doing here is very cool

Cheers Greg

Sweet Lord, Eolai! Between this, your blog, and your painting, do you ever sleep? Concern is building…

Sleeping is an issue. Me and my body are having a major disagreement about it this last week.

me think funny of thisness

these rock u rock

amazing… so far i love the website

your strip reminds me of A ofter World, and I love it.

Damn that smiley.

I should say thanks. I will say it.

Thanks very much kathleen, taz, broken hearted girl, and gutendawg – even if you don't revisit every year to check the comments.

I'll try and respond to comments in a more timely fashion in future, but don't you think it's funny that on a cartoon about eternity I'm responding to comments up to 3 years old?

Would you mind if I used this cartoon in my church news-sheet and also use it on my website? I usually get a photo to go with my blurb on my sermon. The sharp dichotomy between waiting at the shops and eternity is brilliantly captured. Of course I will reference the cartoon back to this website which is amusing since we will have amercian hell on a church website. I'm hoping to use it this Sunday, sorry for the hurry.

the Rev (Chris Perona)

That's perfectly fine Chris, and thank you. Hope I'm not too late in responding – it takes some time for me to wade through hundreds of comments daily in order to find the genuine ones like yours.

Thanks again and good luck.


AmericanHell is powered by WordPress
Valid XHTML :: Entries (RSS) :: Comments (RSS) :: Admin
All Material Copyright American Hell 2007-2009