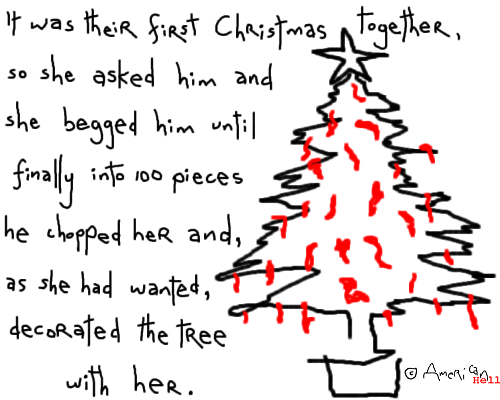 Suggest Names to be used in a cartoon.
See Also:
• Mildred Told Oliver She Was Only Joking
• When Bridgette Read Vladimir's MySpace
• Every Single Cartoon on American Hell
10 Comments
That's holiday romances for ya – they never last.

Delicious.

Did you see the story about the guy in the UK who killed his wife and stuffed her under the xmas tree? The he got into his car and drove it into a tree.

hahahaah where do you get these fantastic ideas!

that's exactly where begging will get you

THAT, my friend, is the funniest one yet.

funny as fu*k

Thanks all.

These traveling working trips aren't exactly conducive to easy posting, but hey it's Christmas and it seems only right for the Christmas Tree to stay up all this time.

But hang on a minute, I think I'm just about to have an epiphany.

I'm waiting patiently for your next drawing!
I love them.

Mary, you're very good. I'm in America right now packing to fly home to Ireland with my dog in the morning. Well okay I'm not packing, but I should be.

In the last 9 weeks I've been traveling all but 8 days and it seems to be messing me up posting on American Hell even though I have my sketchbook and notebook with me.

Because this keeps happening I think I'm going to post in bursts to avoid big gaps in the future – at least until I have somewhere to live and paint in Ireland.

Thanks a million for your patience. It's not lost on me.


AmericanHell is powered by WordPress
Valid XHTML :: Entries (RSS) :: Comments (RSS) :: Admin
All Material Copyright American Hell 2007-2009