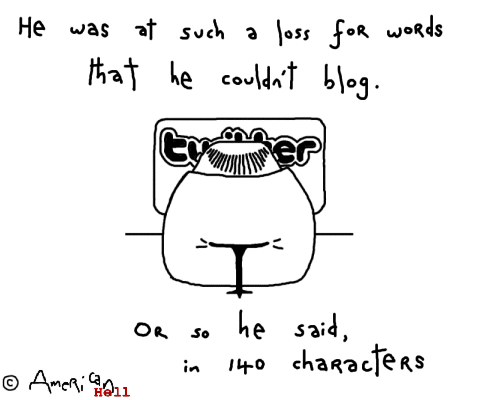 Why don't you suggest a name for a character in a future cartoon?
See Also:
• When Bridgette Read Vladimir's MySpace
• Tobias Decided He Would Go On Walks With Her
• Lance Loved Olive So Much
• The Most Popular (Funniest?) American Hell Cartoons
8 Comments
Ha! That is so spot on!

BMW

[…] Told you Twitter can kill your blogging! (original link) […]

Heh. I like it

brilliant…..

video killed the radio star….twitter killed the blog

my daughter got me to join twitter…sigh…now it's just another thing i forget to check…
xoxox

Incredible …. why don't you just name him twitter

man, I've missed this!


AmericanHell is powered by WordPress
Valid XHTML :: Entries (RSS) :: Comments (RSS) :: Admin
All Material Copyright American Hell 2007-2009