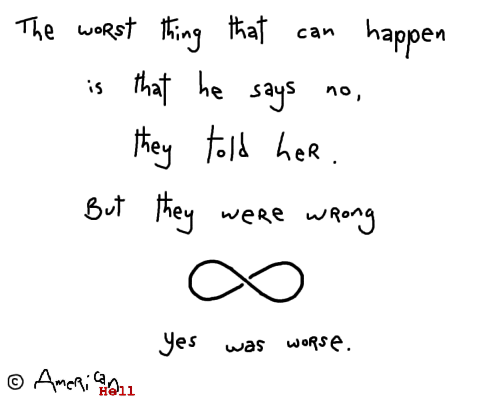 Suggest a Name to be used in a cartoon.
See Also:
• Sarah-Jane Just Wanted It To Be Like It Was
• Mildred Told Oliver She Was Only Joking
• Vinnie Told Maureen He Liked A Laugh
• Or Pick a Random Cartoon
3 Comments
Apologies for lack of posts lately – am currently holed up in empty house in rural Ireland with limited connectivity.

Today after posting this is particularly bad as I'm unable to get to anything other than a couple of sites. (Life without Google) Emails aren't reaching me either, and IrishKC is completely dead.

Twitter has worked twice in last few hours, but it lloks like we'll have to talk another time.

BAM.

It's G Knee Us.

It's happened before and will no doubt happen again. There's a constancy about human inconstancy.


AmericanHell is powered by WordPress
Valid XHTML :: Entries (RSS) :: Comments (RSS) :: Admin
All Material Copyright American Hell 2007-2009